Utilization of distributed energy resources (The Virtual Power Plant)
Tokyo Gas Co., Ltd.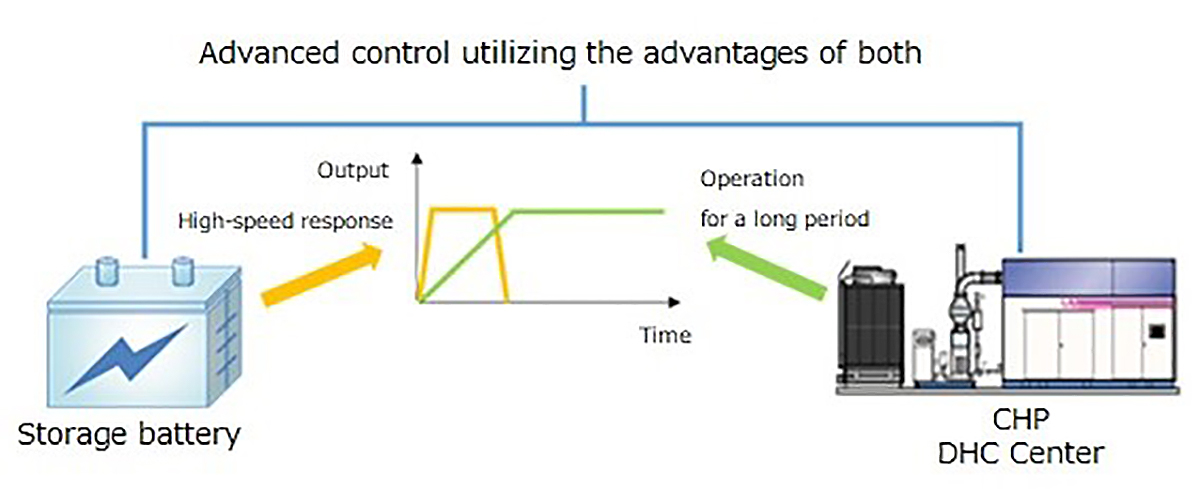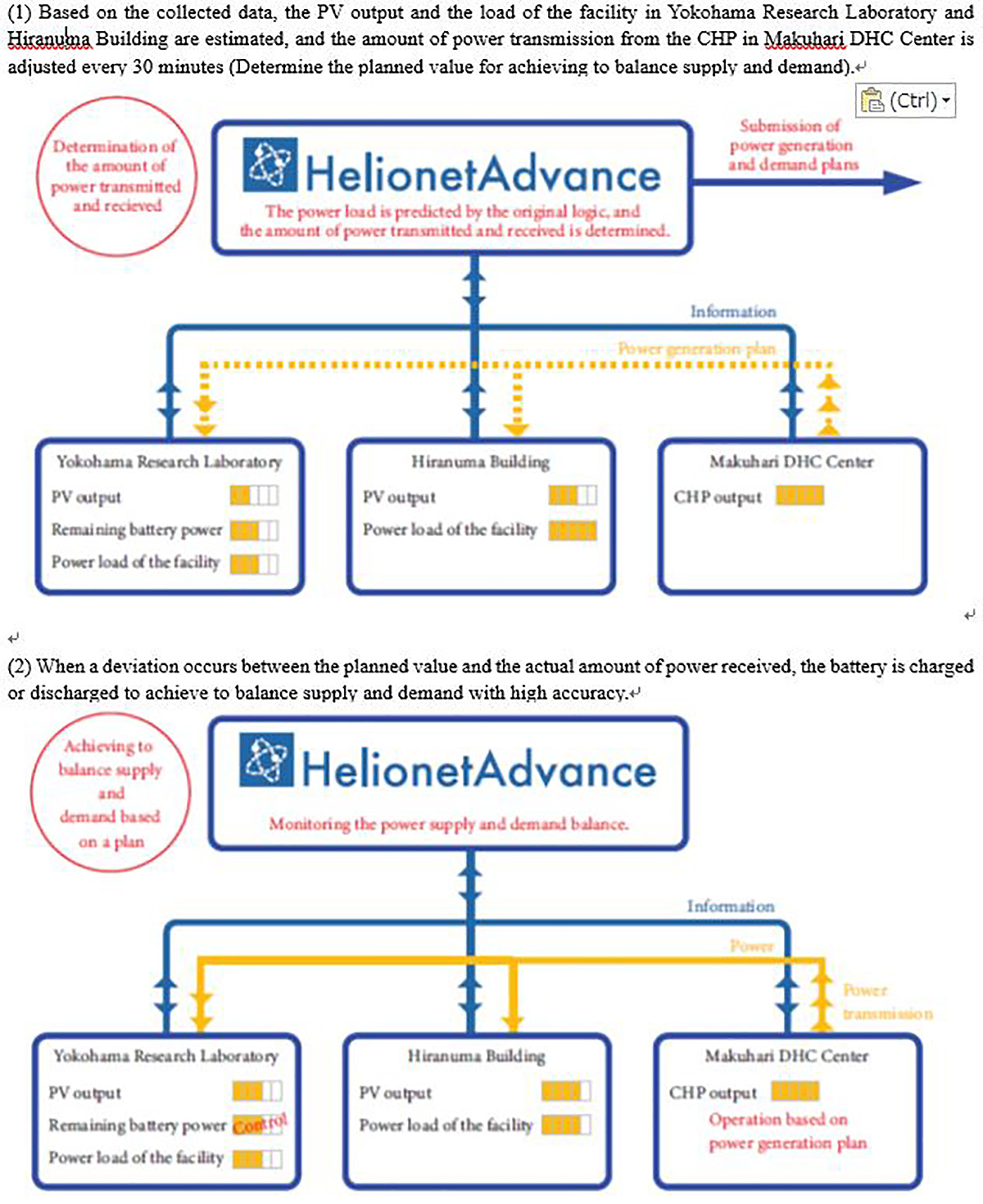 Outline
The Virtual Power Plant (VPP) is a system that provides the same functions as large-scale power plants by remotely controlling and integrating demand side distributed energy resources, and has attracted widespread attention. Combined Heating and Power (CHP) and district heating and cooling systems, which the Tokyo Gas Group has been introducing and disseminating, are expected to be used as resources for VPP.
The Company is participating in the VPP construction demonstration project which is organized by the Ministry of Economy, Trade and Industry, and through which we demonstrate technologies related to the power supply and demand balance adjustment that combines CHP and storage batteries. Furthermore, the Group has put into practical use and started operation of VPP, which automatically integrates and controls solar power generation, storage batteries, and CHP which are installed at each of our dispersed offices, thus being able to adjust the balances between multiple sites simultaneously at the same level with accuracy.
Description
In recent years, the introduction of renewable energies such as solar power and wind power has been greatly advanced, but these energies require an adjustment function to compensate for output fluctuations. Therefore, VPP, which can provide the same function as large-scale power plants by adjusting the power supply and demand balance by remotely integrating and controlling the demand side distributed energy resources, has attracted much attention. The Group has been promoting the introduction and dissemination of distributed energy resources including CHP and district heating and cooling systems, and now, approximately 2 million kW of CHP has been introduced as a result.
Our company participates in the Ministry of Economy, Trade and Industry's demonstration project " Subsidy System for Demonstration Project of Virtual Power Plant Construction utilizing Energy Resources on the Customer Side", and we are working on verification of the advanced control technologies which combines a CHP which enables an extended operation period, a district heating and cooling system with 24 hours monitoring and operation functions and a storage battery which enables high-speed response. We will work on realizing a low-carbon society and creating new values, such as expanding the VPP projects in cooperation with various companies, through demonstration of technologies related to the power supply and demand balance adjustment.
The Group has commercialized and started operation of a VPP that automatically integrates and controls photovoltaic power generation (PV), storage batteries, and CHP installed at each of our various business sites. Specifically, electricity is generated by CHP at the Tokyo Gas Engineering Solutions (TGES) Makuhari District Heating and Cooling (DHC) Center, and transferred by the self-consignment system according to the building power load taking into account the use of PV power at  Yokohama Research Laboratory and Hiranuma Building. This new initiative has confirmed that the power supply-demand balances can be adjusted simultaneously between multiple sites at the same level. The VPP system for integrated control of each facility utilizes TGES's remote automatic control system Helionet Advance to monitor the data constantly, and using these data, the system enables prediction of the building power loads and PV output fluctuations at multiple sites in a short-term and with high accuracy. In addition, by making such predictions, the system optimizes the amount of power transmitted from CHP and controls the overall balance by absorbing sudden and small fluctuations using storage batteries. This enables keeping the balance between supply and demand stable corresponding to fluctuations in weather conditions and also the sudden changes in the amount of electric power received in building. The combination of highly accurate forecasting and CHP makes it possible to adjust supply and demand with smaller-capacity storage batteries for PV scale. It is therefore expected that this approach can be applied to the optimization of the distributed energy systems including renewable power sources that are excellent in environmental and economic efficiency and local energy production and consumption.
Partner(s)
Our company participates in the Ministry of Economy, Trade and Industry's demonstration project "Subsidy System for Demonstration Project of Virtual Power Plant Construction utilizing Energy Resources on the Customer Side"
Supplementary information
Other Innovation Challenges
Similar Innovation Challenges