Challenge the circulation of locally produced and locally consumed energy through the biomass business
Veolia Japan K.K.
Outline
Veolia Japan will contribute to a carbon-free society through the expansion of the biomass business. In biomass power generation, Japan has high humidity due to its climate, and energy efficiency due to humidity has been an issue. Veolia has the know-how of moisture content management in a humid environment from the experience of conducting biomass power generation business under various climatic conditions all over the world. Taking advantage of this strength, we started a biomass power generation business in Japan in 2014 in partnership with TAKEEI CORPORATION. By using local fuel and supplying electricity for local use, we are taking on the challenge of expanding the energy circulation model with a local production and local consumption.
Description
Veolia Japan is engaged in the operation and maintenance of woody biomass power plants that utilize unused forest resources and low-quality wood as fuel. Woody biomass power generation is one of the most practical renewable energies that produce electricity with less impact on the environment.
Electricity generated from woody biomass is supplied to consumers such as factories and elementary and junior high schools via the power grid of electric power companies. In addition, the heat generated with electricity is supplied as steam or heat required for industrial activities such as factories and district heating. In some cases, fruit tomatoes are cultivated using the residual heat of the drained hot water.
The fuel used for biomass power generation uses local wood, which contributes to the energy circulation in the region. For example, Tsugaru Biomass Energy uses thinned wood from forests in the Tsugaru region and pruned branches of apples as fuel, and Hanamaki Biomass Energy uses thinned wood from Iwate Prefecture and wood damaged by pine worms as fuel. Both power plants utilize the operation and maintenance technology and know-how that Veolia has cultivated globally to achieve high operating rates and highly efficient business operations, and each generates electricity for approximately 14,000 households.
As a new initiative, Veolia Japan joined Japan's largest biomass project, that is Kanda Biomass Power Generation Project in Fukuoka Prefecture, with RENOVA, Inc., Sumitomo Forestry Co., Ltd., Kyuden Mirai Energy Co., and Mihara Group K.K..The output scale is about 75 MW using 100% woody biomass as fuel and Veolia Japan is in charge of power generation management.  We are preparing for the start of operation in 2021.
Veolia promotes ecological transformation globally, and has set a goal of reducing greenhouse gas emissions of 15 million tons (CO₂ equivalent) annually in the medium-term management strategy "Impact 2023" from 2020 to 2023.  We will contribute to realizing this goal by expanding biomass power generation.
Through the biomass business, which is a renewable energy, we will promote the circulation of locally produced and locally consumed energy and take on the challenge of realizing a carbon-free society.
Partner(s)
TAKEEI CORPORATION
RENOVA, Inc.
Sumitomo Forestry Co., Ltd.
Kyuden Mirai Energy Co.
Mihara Group K.K.
Other Innovation Challenges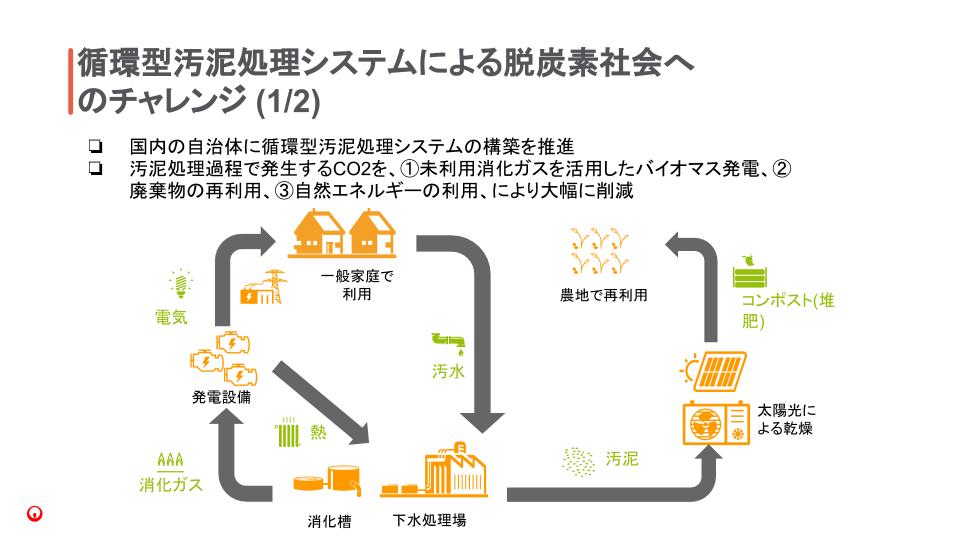 Challenge to a carbon-free society with a circular-oriented sludge treatment system
Veolia Japan K.K.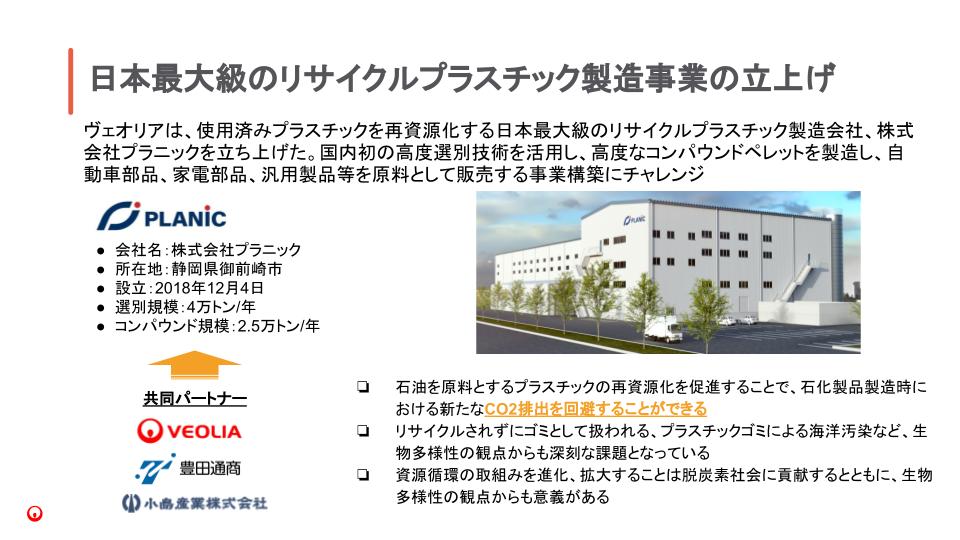 Launch of Japan's largest recycled plastic manufacturing business
Veolia Japan K.K.
Similar Innovation Challenges