Challenge to a carbon-free society with a circular-oriented sludge treatment system
Veolia Japan K.K.
Outline
While the sewerage business plays an important role as an infrastructure that supports Japan's living infrastructure, the amount of energy consumed by business activities is high, and greenhouse gas emissions have been an issue for a long time. In particular, the sludge treatment process uses a lot of energy, so innovations in technologies and processes that significantly reduce greenhouse gas emissions have been required.
By developing innovative technologies and solutions in the sludge treatment process, we will promote the effective use of unused resources (digestion gas, waste) and the use of natural energy and challenge to shift to a circular economy society and reduce greenhouse gases.
Description
Power generation by effective utilization of unused biomass resources
The gas generated when anaerobic digestion of sewage sludge (55% to 65% methane, CO₂ about 40%) is a kind of biogas called digestion gas. By using this carbon-neutral fuel, electricity generates. It also contributes to profits by selling electricity as renewable energy.
Sludge fertilizer facility using solar energy
We designed a facility that dehydrates and dries domestic wastewater to generate solid and liquid fertilizers using the latest technology, and built a system that reduces waste to the utmost by returning it to green farmland. In addition, many heat sources are required for moisture evaporation to dry sludge, but by combining a low-temperature dehumidifying dryer and a solar water heater with a high heat conversion efficiency of 60 to 80%, zero-emission sludge treatment becomes possible.
Goal
Reduce CO₂ generation in the sludge treatment process in the sewage business by (1) biomass power generation using unused digestion gas, (2) reuse of waste, and (3) use of renewable energy.
Co-create a circular economy by involving local governments, citizens, local farmers, and partner companies
Challenge
Although there is a strong need to review the sludge treatment process in the municipality that manages the sewerage, the sludge treatment equipment has a long service life of 10 to 20 years and requires a certain amount of capital investment. Thus,there is a financial concern how to raise funds.
The use of electricity and components generated from waste caused by the result of sludge treatment requires co-creation activities involving local stakeholders such as local governments.
Action
In addition to cost reduction by introducing innovative technology,  developing profit model by effective utilization of unused resources (compost sales, biomass power generation using FIT, etc.), and offering finance solution utilizing PFI through public-private partnership
Sharing information and holding study sessions such as workshops as it is necessary for local governments, local farmers, citizens, partner companies, etc. to understand the circular economy system.
Other Innovation Challenges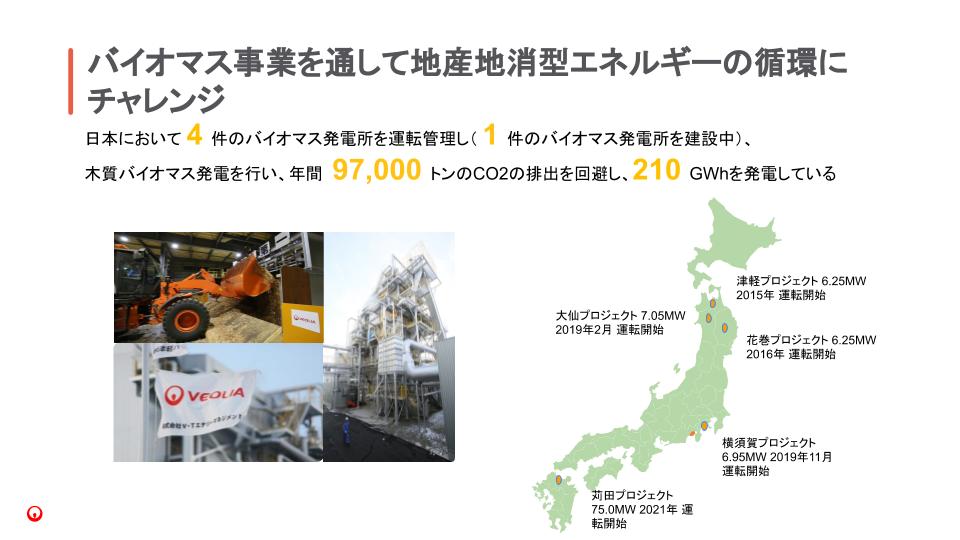 Challenge the circulation of locally produced and locally consumed energy through the biomass business
Veolia Japan K.K.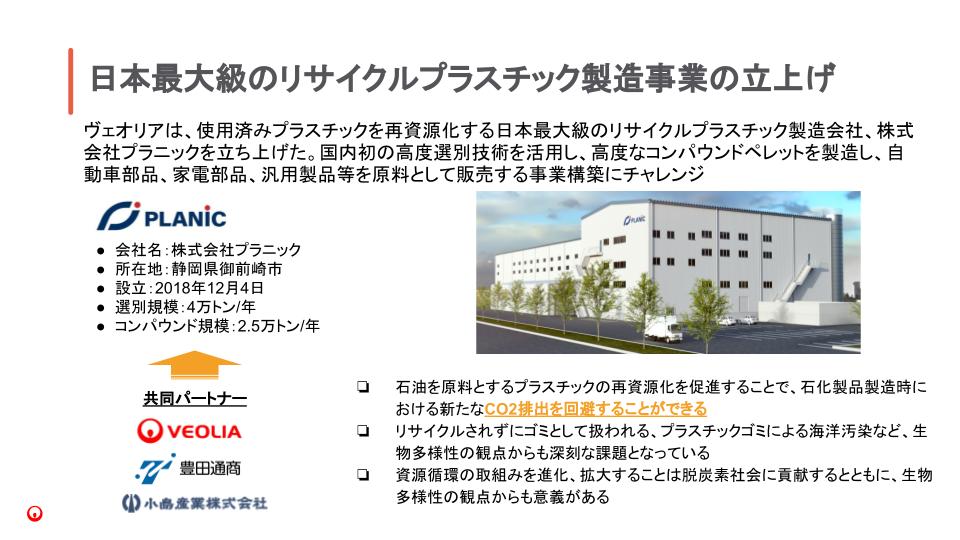 Launch of Japan's largest recycled plastic manufacturing business
Veolia Japan K.K.
Similar Innovation Challenges