Utilization of recyclable energy for glass melting furnace
Toyo Seikan Group Holdings, Ltd.
Outline
As an initiative to eliminate carbon emissions from glass melting furnace, to adopt all-electric melting method utilizing electricity from renewable energy sources is an ideal solution, but does not seem applicable to large size furnaces for glass bottle. Therefore, we aim to completely eliminate carbon emissions by a hybrid system between upper combustion method with the existing open-hearth furnace and electro-dissolution, with a combination of carbon free combustible gas (hydrogen and ammonia gas) and electric heating using electricity from renewable energy sources.
Description
Target of this challenge:
Zero CO2 emissions from melting process (except for emissions from raw materials), with precondition that it is economically viable.
Hurdles to overcome in accomplishing this challenge:
・ Improvement of thermal conductivity and efficiency of electricity utilization during combustion
- Specifically, the key is how to maximize flame luminance to improve thermal conductivity of open-hearth furnace. Luminous flame can be obtained by    combusting ammonia, but, as NOx is generated at the same time, technology to suppress NOx is required. These combustions are classified as oxygen    combustion but since the exhaust gas volume is low, heat recovery method has not yet been established. As to the development of heat utilization from exhaust gas, demonstration experiment to utilize town gas for pure oxygen furnace is being conducted abroad, which technology may be applied in the future.
・ Improvement of efficiency by optimizing electrode placement
- It is already known that placement of electrode and electric conduction largely    influence the quality of glass, and many simulations are taking place. Therefore, we should be able to accomplish higher efficiency with the future study.
Specific actions:
・ Direct electric conduction already implemented
- We have already implemented direct electric conduction with the actual furnace, and considerably accumulated know-how to handle electrode.
・ Preliminary oxygen combustion test also conducted.
- We have also conducted combustion test, such as in-flight melting, using pure    oxygen burner
・ Collection of information on ammonia and hydrogen combustion
Impact when the challenge is accomplished:
Since the glass itself is a raw material friendly to environment, it is significantly meaningful to reduce CO2 during its production process.
Other Innovation Challenges Sustained-release water-soluble glass to contribute to blue carbon
Toyo Seikan Group Holdings, Ltd. Weight reduction of metal container to aim for zero carbon emissions
Toyo Seikan Group Holdings, Ltd.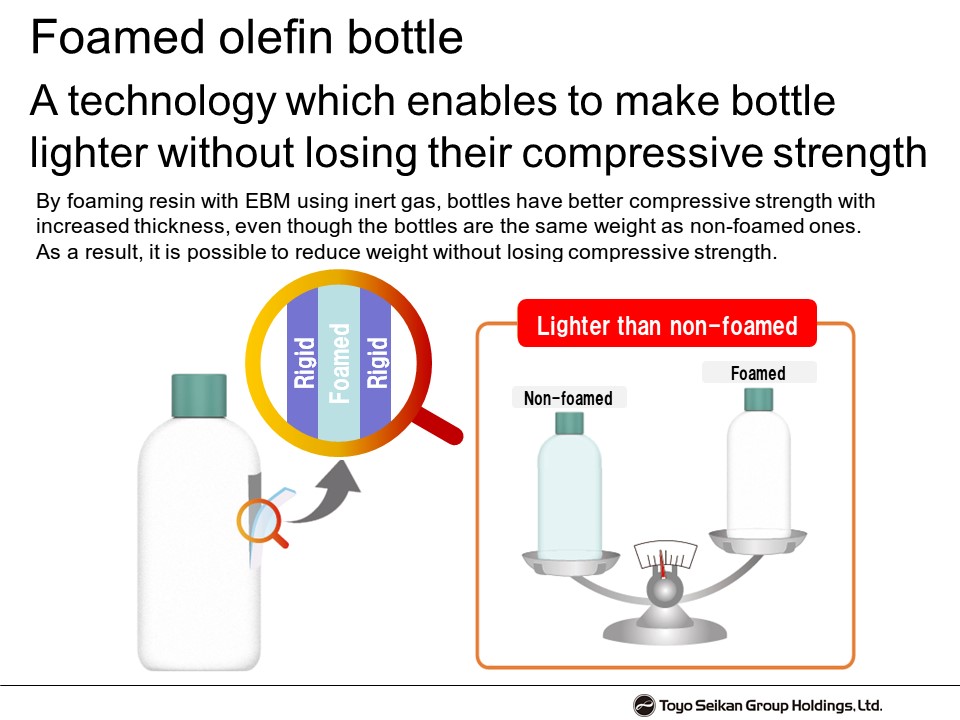 Weight reduction of olefin bottles using foam extrusion blow molding
Toyo Seikan Group Holdings, Ltd.
Similar Innovation Challenges