CO2 removal air conditioning system
SHIMIZU CORPORATION
Outline
The "CO2 reduction air conditioning system" for indoor workplace is a technology developed by Shimizu Corporation through joint research with Seibu Giken Co., Ltd.
Currently, CO2 concentration in outside air reaches about 400 to 500 ppm depending on the region. By utilizing our original desiccant rotor that removes CO2, the CO2 concentration of the air introduced into the building decreases to 120 to 200 ppm. Additionally, the ventilation volume can be reduced to about 2/3 of the conventional level, and the power consumption of air conditioning can be reduced by 10-15%. This system also has a dehumidification function and provides a comfortable indoor environment.
Description
It is essential to reduce the concentration of atmospheric CO2 level associated with further industrialization and an increasing global population. At the same time, increasing global warming requires comfortable, highly productive indoor work spaces. This "world-first air conditioning system" which captures CO2 from outside air can simultaneously fulfill various requirements and has potential to contribute to the improvement of the global environment.
This system absorbs CO2 by using a high-performance desiccant rotor. It efficiently removes CO2, can reduce the CO2 concentration of outside air to 120 to 200 ppm to introduce inside, and can provide a comfortable interior space. By collecting absorbed CO2 and reusing it at agricultural farms, etc., it contributes to carbon recycling and CO2 reduction. Our system has further functionalities: it decreases VOCs (volatile organic compounds), and air pollutants (NOx and SOx), as well as PM2.5 through an accommodated medium efficiency filter, contributing to the health and working efficiency of people indoors.
The domestic patent has been registered and the international PCT patent application has been accepted for registration in each country. This means the system is recognized as a "world-first air conditioning system".
 "The CO2 removal air-conditioning system" is currently being used at the new Shanghai office of Shimizu Corporation China, which has received LEED v4 interior Gold and WELL v1 Interior Silver certification. (LEED: Architecture and urban environmental performance evaluation system; WELL: Performance evaluation system for functions that affect human health and living.)
This system is also effective for energy conservation in buildings. The amount of outside air introduced can be fixed to the minimum legal requirement, meaning the ventilation volume is likely to require up to 2/3 of the volume of a conventional system. Therefore, not only the required capacity of chillers and cooling towers, but also the power supply and footprint for related equipment is expected to be 10 to 15% less.
Shimizu Corporation plans to improve indoor air quality and introduce the new usage and utilization of captured CO2 through the development of our "CO2 reduction air conditioning system".
Supplementary information
Other Innovation Challenges

Adoption of next-generation biodiesel fuel
SHIMIZU CORPORATION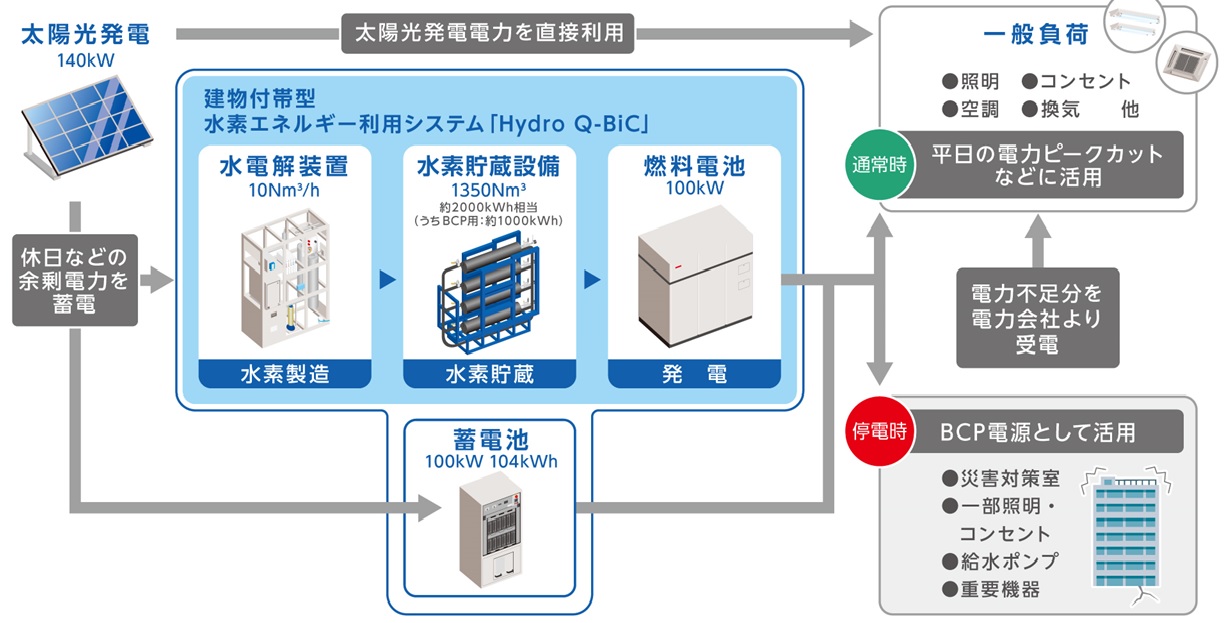 Hydrogen energy utilization system "hydro Q-BiC"
SHIMIZU CORPORATION
Similar Innovation Challenges