Low-carbon concrete
KAJIMA CORPORATION
Outline
Formulating a concept with combined viewpoints of environmental consideration, high quality, and economical efficiency.As a part of efforts contributing to the sustainable society construction, four types of low-carbon concrete have been developed and put into practical use from the viewpoint of "low carbon" as shown in Fig. 1. It includes three kinds of blast-furnace slag fine powder concretes with various substitution rates to meet the performance requirements of each building element and improve the conventional, and a recycled cement concrete (hereinafter referred to as Eco-create R3) using dried ready-mixed concrete sludge powder (hereinafter referred to as CemR3) that had been finally disposed as waste in a ready-mixed concrete factory. All of them can replace a part of the conventional portland cement, and can reduce the carbon dioxide emission according to the replacement rate.
Description
1. Characteristics of the low-carbon concrete
(1) Concrete using blast furnace slag fine powder
Our company has developed cement concretes using three kinds of blast furnace slag fine powder and put into practical use. These are called ECM concrete, KKC concrete, and BLS concrete in an order of the substitution rate of the blast furnace slag fine powder, and they are applied to mass concrete of underground skeleton, CFT filled concrete, and upper ground skeleton as shown in Fig. 2. The substitution ratio corresponds to the blast furnace cement C, B, and A, respectively. Though these cements are the same as the conventional blast furnace cement in terms of the substitution rate, the concrete characteristics have been extremely improved to meet the needs of each application.
(2) Recycled cement concrete
As shown in Fig. 3, Eco-create R3 was developed using dry sludge fine powder CemR3 as an admixture derived from the concrete returned from construction sites to ready-mixed concrete plants . Eco-create R3, in which 20% to 30% of the binder is substituted by CemR3, has been applied to reinforced concrete buildings as a ready-mixed concrete with the JIS certification after experimental confirmation of its quality equivalent to that of ordinary concrete.
2. Goal of the challenge
In view of global environmental problems, reduction of CO2 emission is an urgent issue, and the challenge to the low carbon in the cement related field, which occupies about 4% of CO2 emission in our country, does make sense. With the Kajima Environmental Vision - Triple Zero 2050, our company is aiming to achieve 0 emissions of greenhouse gases from our own activities and the structures we provides in terms of the low-carbon perspective.
3. Problems to be overcome to realize the challenges
Reinforcement of cooperation with cement manufacturers, ready-mixed concrete cooperative associations, and ready-mixed concrete companies is indispensable. Cement manufacturers mainly produce portland cement without admixture such as blast furnace slag fine powder. Though this is socially useful from the viewpoint of incineration disposal and effective utilization of wastes, a reconsideration is necessary from the viewpoint of de-carbonization. In the commercial flow of ready-mixed concrete mainly composed of portland cement, low-carbon concrete is treated as a special product, and its popularization does not advance due to cost increase.
4. Specific actions taken by our company and related organizations
Encourage the use of low-carbon concrete for building constructions in our company. Among blast furnace slag fine powder concretes, ECM Concrete was developed in cooperation with Takenaka Corporation as a result of the NEDO research. The Japan Slag Cement Concrete Technology Workshop (Hereafter referred to as the Slag Study Group) was started as an executive organization of the NEDO research, and the popularization of ECM concrete is being promoted. The popularization activity is thus proceeded in cooperation with Takenaka Corp., the Slag Study Group, and the member companies of the Slag Study Group. The university - industry corporation SRY Workshop was also started to establish the popularization of Eco-create R3.
5. Quantitative effects of the challenge
The application of three kinds of blast furnace slag fine powder concrete could reduce the CO2 emission of the whole buildings by about 10%, corresponding to about 1000 tons of CO2 in the case of a general office building, and the reduction effect corresponds to the CO2 absorption by 108000 cedar plantation in a year. Eco-create R3 can also reduce about 10% (approximately 480 tons of CO2) CO2 emission from the whole building, using Eco-create R3 about 6000 m3, corresponding to the CO2 reduction absorbed by cedar artificial forest of 46000 trees in a year.
Partner(s)
Takenaka Corporation
Japan Slag Cement Concrete Technology Workshop
Supplementary information
For details, refer to the website of Kajima Technical Research Institute.
https://www.kajima.co.jp/tech/katri/index-j.html
Among blast furnace slag fine powder concretes, "ECM Concrete" received the 25th Global Environment Award [Sponsor: Fujisankei Communications Group (Ministry of Economy, Trade and Industry, Ministry of the Environment, Ministry of Education, Culture, Sports, Science and Technology, Ministry of Land, Infrastructure, Transport and Tourism, Ministry of Agriculture, Forestry and Fisheries, and Japan Business Federation)] as the ECM joint research and development team [President & CEO: Takenaka Corporation] in April, 2016.
These four low carbon concretes have won many other technology awards.
Kajima Environmental Vision-Triple Zero2050
https://www.kajima.co.jp/english/csr/environment/target/index.html
Other Innovation Challenges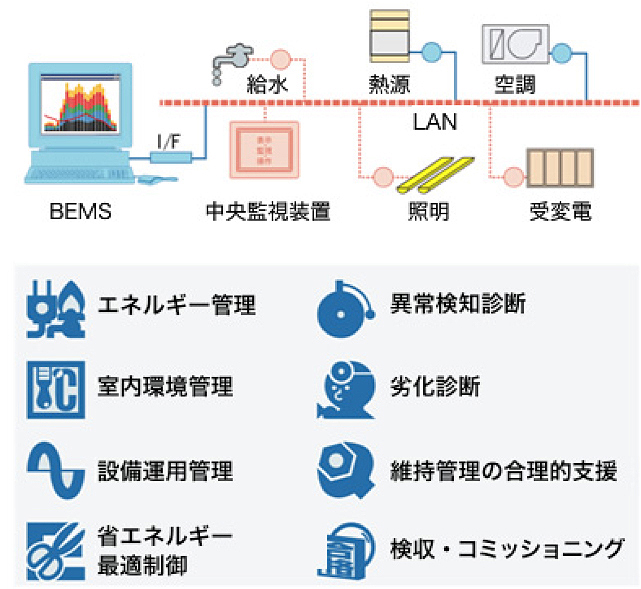 BEMS (Building Energy Management System)
KAJIMA CORPORATION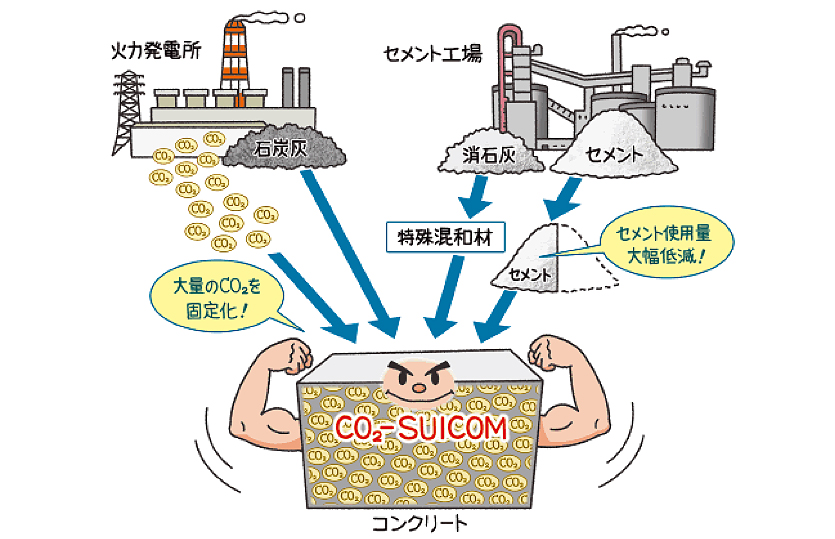 Development and popularization of CO2 Utilizing concrete
KAJIMA CORPORATION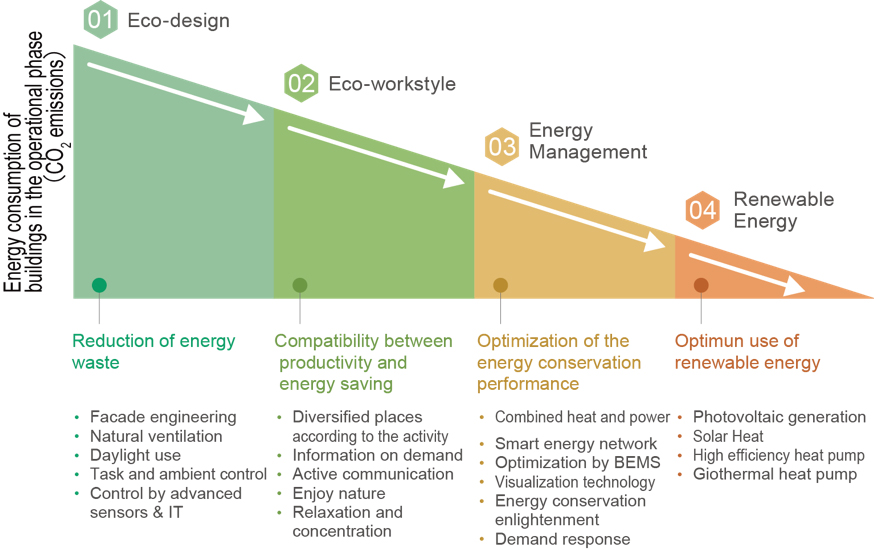 ZEB (Zero Energy Building)
KAJIMA CORPORATION
Similar Innovation Challenges