Challenge toward social implementation of sophisticated ZEB
MAEDA CORPORATION
Outline
The "Exchange," bearing the mainstay of management of "ICI general center ICI LAB," which is the Maeda's new R&D base, was designed as a concept of "a next-generation type office to realize ZEB and improvement in intellectual productivity." For this building, not only the environmental performance ranging from energy-saving/environmental performance to material procurement is appreciated, but also the plan was especially recognized to achieve both the realization of ZEB and the improvement of intellectual productivity by the office space and environment open and comfortable for workers. As a result, this building obtained the platinum certification, which is the highest of the international building environmental performance evaluation system "LEED V4 BD+C New Construction" first in Japan.
Various environmental technologies, making the most of the natural environment in the construction site and the high efficient equipment, such as the task & ambient air-conditioning mainly of the earth thermal use water-cooled heat pump and the ceiling radiation air-conditioning system, natural ventilation system catching winds from various directions , the inside and outside blinds with motor-driven control, and the photovoltaic power generation panel, are implemented as the technologies for achieving ZEB. While performance verification is being carried out for each technology, the spread in the future is promoted by considering making operation comfortable and cost reduction.
Description
The main technologies implemented for achieving ZEB are as follows:
(i) Task & ambient air-conditioning mainly of a water-cooled heat pump chiller using well water and the ceiling radiation air-conditioning system using a deck slab (new development): Cascade using the heat of well water as a heat source of an outside air treatment air-conditioner, a ceiling radiation panel, and a water-cooled heat pump chiller as an earth thermal use open loop system
(ii) Natural ventilation system to catch wind from various directions positively: A building shape made to be easy to catch in any wind directions
(iii) Inside and outside blinds with motor-driven control: A view is ensured while solar radiation is cut with an outside blind in summer. Heat is obtained with an inner blind are warmed by sunlight in winter.
(iv) Making outdoor air-conditioning equipment high efficient by using a base-isolated floor as a cool pit: A heat source machine is operated high efficiently by making lower the suction temperature of outdoor equipment in summer and making it higher in winter
(v) It is a highly efficient photovoltaic power generation panel with the roof (111 kW) and the south wall surface (22 kW.) In addition, "CO2 free hydrogen use + a direct-current electric supply system of hybrid accumulation of electricity," "desiccant air-conditioning using fuel cell exhaust heat + exhaust heat under a photovoltaic power generation panel," etc. are also introduced on a trial basis as challenging efforts, and it is promoted to achieve advanced ZEB.
In the calculation in the efforts, it is expected that primary energy consumption is held down to approximately 516 MJ/m2, and the energy of approximately 549 MJ/m2 is generated by photovoltaic power generation, and commissioning WG activities in the company are being carried out to optimize operation.
Supplementary information
Other Innovation Challenges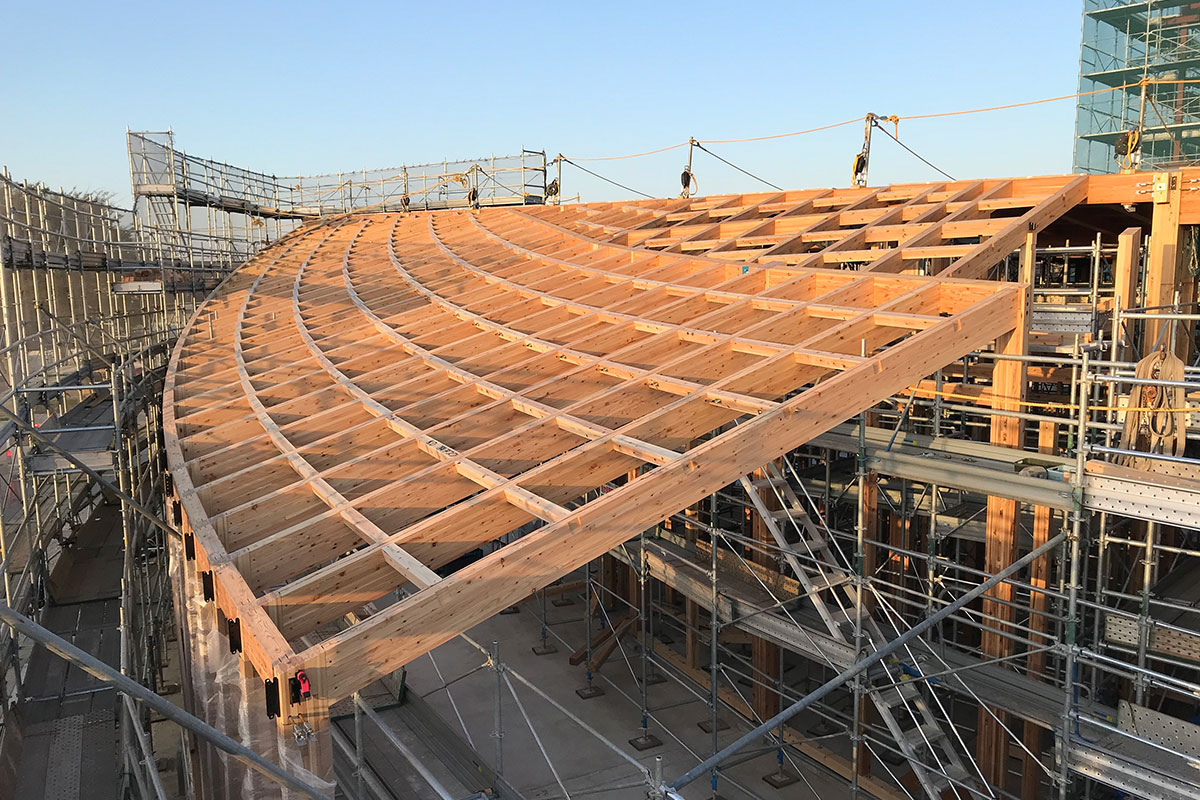 Wood resource comprehensive use project by using as a core a new production system for wooden construction (wooden multi-axis processor)
MAEDA CORPORATION
Similar Innovation Challenges