Realization of International Liquefied Hydrogen Energy Supply Chain
Kawasaki Heavy Industries, Ltd.
Outline
As a key to achieve a decarbonized society, hydrogen energy has been in the limelight in Japan and abroad. In order to promote the social implementation of hydrogen energy, Kawasaki aims to commercialize a CO₂-free hydrogen energy supply chain, and has started operation of its pilot demonstration project since 2020.
In the pilot project, the following technical demonstrations are making progress: hydrogen production from Victorian coal in Australia, hydrogen land transportation from the production site, loading onto liquefied hydrogen carrier, the world's first long distance marine transportation of large-volume liquefied hydrogen and loading/unloading technology at the liquefied hydrogen terminal in Kobe.
Outcomes of the present project will be a basis for future hydrogen supply that can link every corner of the world to Japan.
Description
Toward decarbonization, the demand for hydrogen, which has the potential to reduce CO₂ emissions, is expected to increase in the future. To meet the greatly increasing demand, it is essential to supply hydrogen economically and stably in large quantities to Japan, and it is necessary to develop a large-scale hydrogen supply chain. Aiming to establish a liquefied hydrogen supply chain, Kawasaki has been working on technology demonstrations toward commercialization and the establishment of a cooperative consortium as well as technology and product development.
Liquefied hydrogen is a clean and sustainable energy carrier with no toxicity and zero global warming potential and has already been used mainly in industrial applications such as semiconductor manufacturing and special applications such as rocket fuel. Liquefied hydrogen is approximately 800 times denser or more compact than atmospheric-pressure gaseous hydrogen, making it highly volume-efficient and suitable for mass transportation and storage. In addition, since liquefied hydrogen is extremely pure, gas purification is not necessary even when high-purity hydrogen is required for fuel cell vehicles, etc.
As the entrance to commercialization of the liquefied hydrogen supply chain, a pilot-scale technical demonstration project (hereinafter referred to as the "pilot project") is entering the operation phase in fiscal 2020. In the pilot project, hydrogen is produced by gasifying and refining Victorian coal in Latrobe Valley, Victoria State, Australia, and the produced hydrogen will be transported to a liquefaction and loading terminal in the Port of Hastings where it will be liquefied. The hydrogen will then be transported by the world's first liquefied hydrogen carrier to the Hy touch Kobe, the liquefied hydrogen terminal on Kobe Airport Island for receiving.
The pilot project covers the whole hydrogen energy supply chain from the Victorian coal gasification and hydrogen refining facility in Latrobe Valley through to the liquefied hydrogen terminal at Kobe Airport Island, and will identify issues in technology, safety, operation and social acceptance. Kawasaki promotes the pilot project with partners under the support by the New Energy and Industrial Technology Development Organization (NEDO), Australian federal and the Victorian state governments.  
In the pilot project, Kawasaki is responsible for project coordination, building of liquefied hydrogen carrier and construction of a liquefied hydrogen terminal. In 2021, the world's first liquefied hydrogen carrier "SUISO FRONTIER" that Kawasaki built is scheduled to go roundtrip between Australia and Japan carrying liquefied hydrogen. We will promote the pilot project safely and steadily toward commercialization.
This demonstration will make it possible to source hydrogen from overseas in the same way as liquefied natural gas (LNG) which is widely used today. Hydrogen can also be produced from renewable energy sources and is indispensable for realizing a sustainable energy society while achieving decarbonization. We have already started to work on feasibility studies with several partner companies overseas on producing hydrogen from renewable energy sources.
As the only company in the world who holds in a single company all the core technologies to produce, transport, store and utilize hydrogen, Kawasaki contributes to realizing hydrogen economy and decarbonized society.
Partner(s)
Kawasaki is working on the pilot project with partners as follows.
The New Energy and Industrial Technology Development Organization (NEDO),
Australian federal government
Victorian state government
The CO₂-free Hydrogen Energy Supply-chain Technology Research Association (Electric Power Development Co., Ltd., ENEOS Corporation, Iwatani Corporation, Kawasaki Kisen Kaisha, Ltd, Marubeni Corporation and Shell Japan Ltd.)
Australian consortium (Iwatani Corporation, Electric Power Development Co., Ltd., Marubeni Corporation, AGL Loy Yang Pty Ltd and Sumitomo Corporation)
Supplementary information
Other Innovation Challenges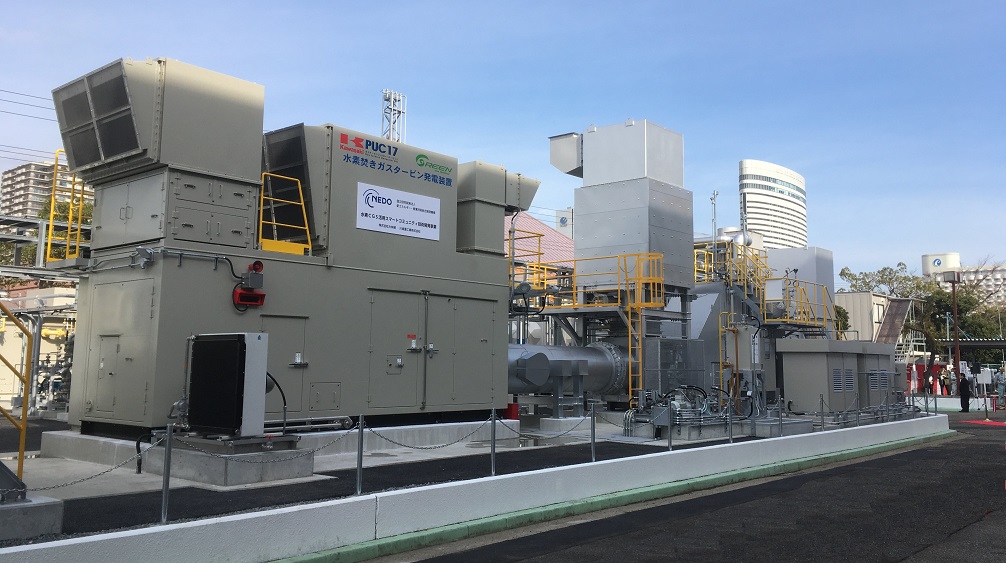 Development of Hydrogen Fueled Power Generation Technologies
Kawasaki Heavy Industries, Ltd.
Similar Innovation Challenges