Realizing Spread of ZEBs through Upgrading of Medium-sized Office Buildings
Daikin Industries, Ltd.
Outline
We are striving to spread ZEBs in small and medium-sized buildings which have high potential to offer energy efficiency by upgrading facilities and operation management incorporating versatile technologies. The Japanese government has also promoted ZEBs announcing the 26% reduction target of GHG emissions in 2030 compared to fiscal 2013 levels based on the Paris Agreement. Typically, complicated technologies and huge introduction costs were required to realize ZEBs. Daikin achieved ZEB Ready* status for a medium-sized renovated building in one of Daikin's office buildings, through renewal and central control of air conditioners, ventilation and lighting which consume large amount of energy in buildings, achieving a primary energy consumption reduction of 55% over the base value.
We think the expertise of this project contributes to promote ZEBs in small and medium-sized buildings which have difficulties in energy management without building managers.
*ZEB Ready: A building that consumes at least 50% less energy compared to normal building energy standards.
Description
The building in this project is a 2,620 m2 medium-sized building constructed in September 1997. Daikin and its group companies are the tenants. Based on WEBPRO estimates, it was designed to achieve ZEB Ready, aiming at 55% reduction of a primary energy consumption over the base value, only by upgrading lighting, air conditioners, and ventilation with those already available on the market.
Three major technologies introduced in this energy efficiency project
(1) Sensible/latent heat separate air-conditioning system
Through separate control of temperature and humidity by high efficiency equipment for each, we aimed at achieving both energy efficiency and comfortability.  
The sensible/latent heat separate air-conditioning system consists of DESICA, heat pump desiccant humidity control outdoor-air unit which controls humidity, and high sensible heat VRF system which controls temperature. Since DESICA controls humidity, VFR can focus on controlling temperature, resulting in reduction of loads on compressors by raising evaporating temperature in cooling, which contributes to improving energy efficiency.
(2) Central control of air conditioners, ventilation and lighting
To realize ZEBs, we introduced a low-cost management system which enables control of air conditioners, ventilation, and lighting by one controller. This system enables detailed management such as scheduled control of each equipment, prevention of forgetting turning-off, preheating and precooling in small and medium-sized buildings without building managers. Thanks to this system, a significant energy efficiency has been realized in small spaces with low cost. Also, the lighting control based on the DALI international standard was introduced, which was rare case in Japan, achieving energy efficiency through illuminance management for each lighting.
(3) Selection of optimal air conditioners by analyzing existing air conditioner's operation data
In the draft summary compiled by the ZEB Roadmap Follow-up Committee, it is pointed out that in existing buildings air conditioning system are renewed with the same capacity system without considering the change of building usages or reduced heat gain due to energy efficient LED lighting, PCs and others, and we need to take actions.
For renewal of air conditioners, we measured operational status of air conditioners by a remote monitoring system and utilize the collected data for comparison. When outside temperature became high, the load of air conditioners was approx. less than 130W/m2, lower than data before renewal of 204W/m2. After verification, we reviewed conditions of climate, interior heat gain and ventilation load, and then selected air conditioners with optimal capacity.
The graph above shows the primary energy consumption for one year after the renewal. The vertical line shows the unit of primary energy. The bar chart shows the national base value and the result in 2017, and accumulated values are shown in the line chart. In addition to the measures mentioned above, for promotion of more energy efficiency, we installed double-glazed windows, solar panels and ZEB monitors. Every month, we achieved the reduction in electricity consumptions, resulting in 67% reduction over the base value for a year.
Daikin formulated the "Environmental Vision 2050" which aims to reduce greenhouse gas emissions generated throughout the entire life cycle of our products to net zero in 2050. On the other hand, air conditioners are expected to spread worldwide, and the demand of them is estimated to triple by 2050 according to the IEA. Under these circumstances, it is challenging for us to achieve the net zero emission target, and it might be difficult to achieve it only by reducing global warming impacts of our products, such as energy-efficient air conditioners and low-GWP refrigerants.
In addition to the above measures, we consider providing "solutions" could contribute to achieve the net zero emission target, by which we aim to promote energy efficiency through operation incorporating energy management in buildings. By spreading ZEBs, which respond to renewals of buildings, we strive to achieve our "Environmental Vision 2050."
Supplementary information
News release on January 18, 2019
For Realizing Spread of ZEBs through Upgrading of Medium-sized Office Buildings, Daikin Recognized with Director-General's Prize, Agency for Natural Resources and Energy, Fiscal
2018 Grand Prize for Excellence in Energy Efficiency and Conservation
https://www.daikin.co.jp/press/2019/20190118/
(Japanese only)
Other Innovation Challenges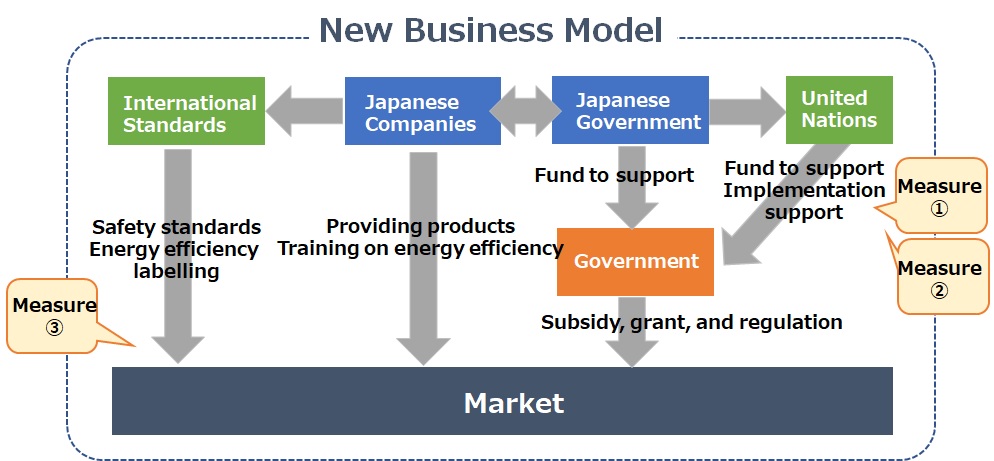 Promotion of energy efficiency by spreading high efficiency HFC-32 air conditioner globally
Daikin Industries, Ltd.
Similar Innovation Challenges