Highly efficient carbon dioxide separation by facilitated transport membrane ~Application to CCUS technology~
SUMITOMO CHEMICAL COMPANY, LIMITED
Outline
Carbon dioxide (CO2) is the primary greenhouse gas. In order to achieve the Paris Agreement's 2-degree goal (to keep a global temperature rise this century well below 2 degrees Celsius above pre-industrial levels), significant global actions to reduce CO2 emission are required, including CCS (Carbon Capture & Storage) and CCU (Carbon Capture & Utilization).
Among the measures to separate the CO2 from gas mixture, since the membrane separation process consume less energy than others, its technological establishment is desired in the world. Sumitomo Chemical has been pursuing R&D of CO2 separation membrane technology since 2013. It is designated as one of the Sumika Sustainable Solutions (SSS).
Description
There are several methods to separate CO2 from gas mixture, such as absorption, adsorption and membrane separation. In the membrane separation process, CO2 is separated where a difference exists in the CO2 partial pressure between the two sides of membrane, therefore it essentially requires much less energy than the other processes like the absorption process which requires heating for the regeneration of absorption liquid, or the adsorption (PSA) process which requires high pressure compression.
The Sumitomo Chemical's CO2 separation membrane is classified as a "facilitated transport membrane". The membrane contains water-absorbent polymer with "carrier" components which specifically and reversibly react with CO2. Since the carrier components bind with CO2 at the high CO2 partial pressure side and release CO2 at the low side, the membrane can separate CO2 from various gas mixtures such as H2, CO, N2 or CH4 with a high selectivity and a high permeability. One of the distinguishing features of our membrane is that it can efficiently separate CO2 from H2 mixture in contrast with other membranes like solution-diffusion membranes or molecular sieve membranes with which such a separation is difficult or impossible.
We have developed the continuous roll-to-roll processing of separation membrane film as well as the "spiral-wound elements" which contains a large area of separation membrane and flow paths of both supply and permeant sides inside, which has a cylindrical shape with a diameter of 0.2m and a length of 1m typically. CO2 separation is performed with such elements installed into the housings connected to piping. Sumitomo Chemical recognizes that we are the only company in the world who has developed the industrially available CO2 separation membrane elements with facilitated transport membranes.
Our CO2 separation membrane can be applied to (1) highly efficient CO2 separation from the syngas produced by reforming of hydrocarbons in the field of hydrogen production systems or fuel cell systems, and (2) methane enrichment from natural gas or biogas produced by anaerobic digestion. In addition we will be focusing on (3) application to the recycling process of waste plastics and (4) CO2 separation from the flue gas from fired power plants or boilers. Sumitomo Chemical continues the R&D so as to produce and supply the CO2 separation membrane elements with more improved performance.
Other Innovation Challenges Circular Economy Initiative 2 ~Chemical Recycling Technology~
SUMITOMO CHEMICAL COMPANY, LIMITED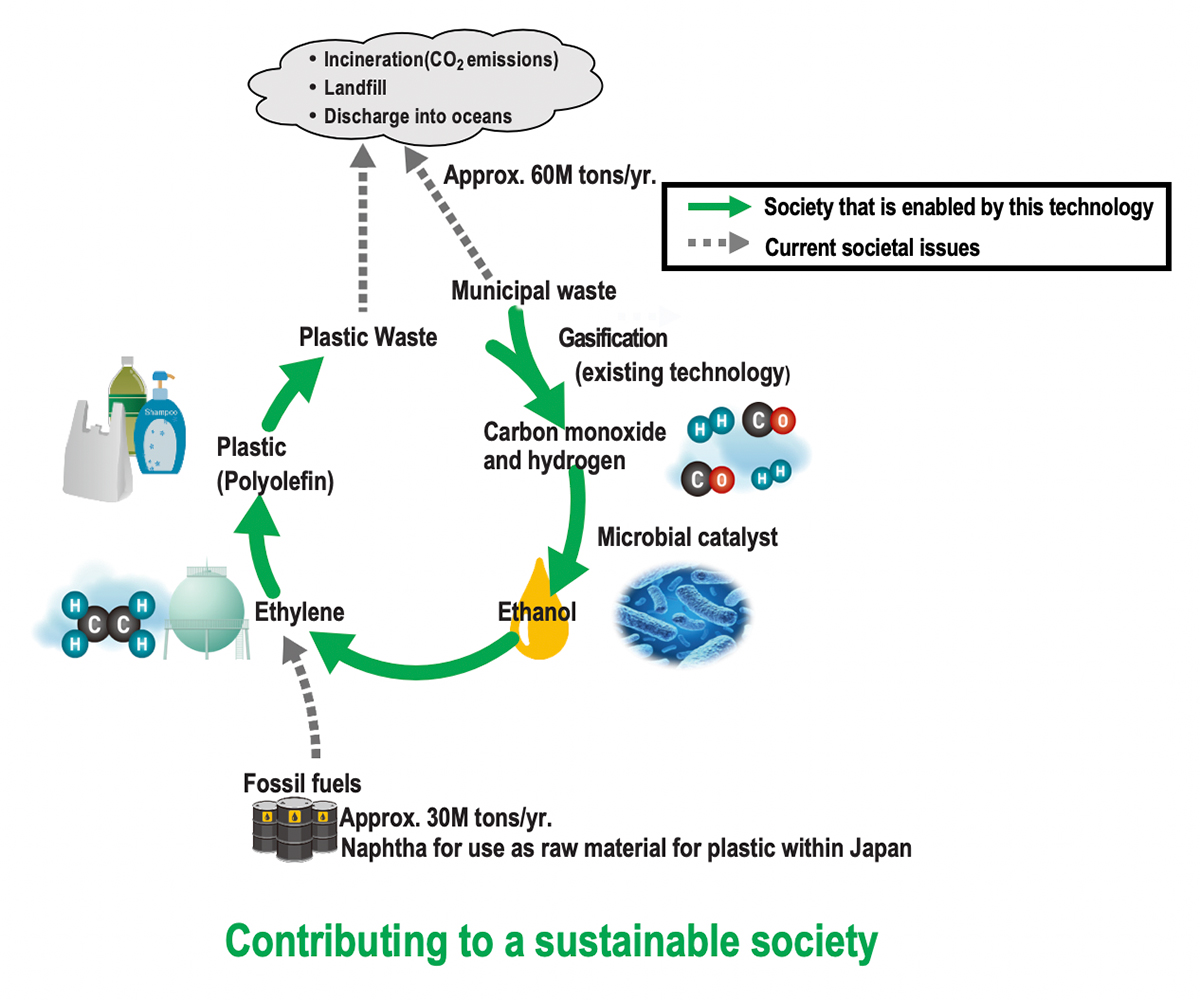 Circular Economy Initiative ~Manufacturing Polyolefin using Waste as Raw Material~
SUMITOMO CHEMICAL COMPANY, LIMITED

For Efficient Energy Use ~Secondary Battery Materials~
SUMITOMO CHEMICAL COMPANY, LIMITED
Similar Innovation Challenges