Hydrogen energy utilization system "hydro Q-BiC"
SHIMIZU CORPORATION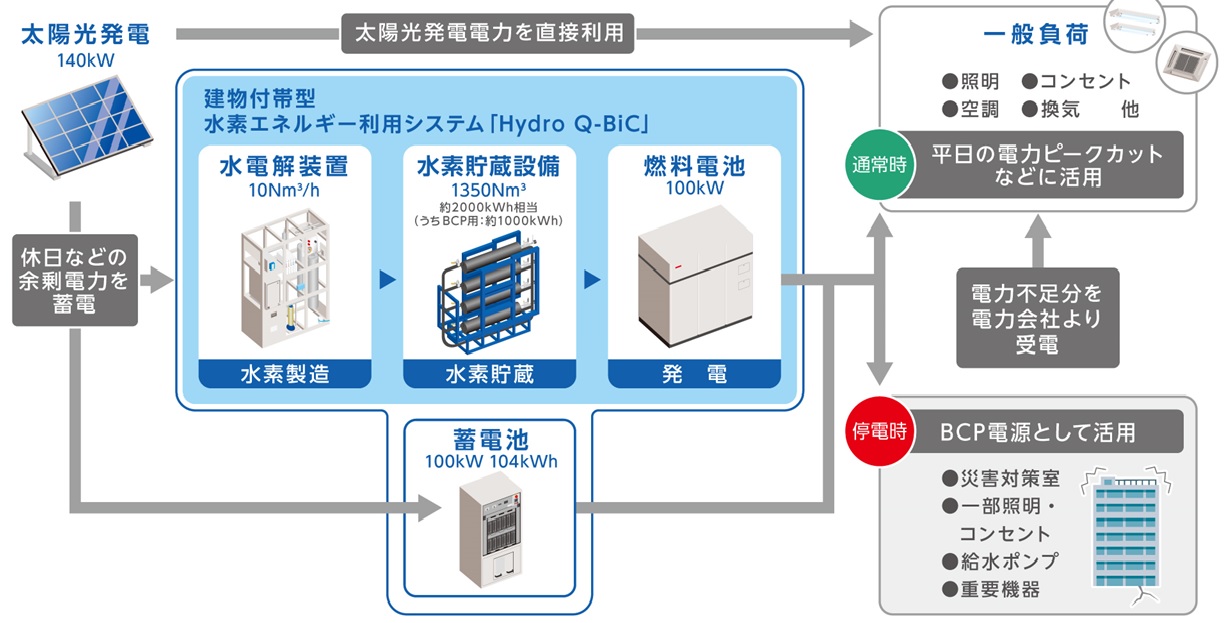 Outline
"Hydro Q-BiC (Building Attached Hydrogen Energy Utilization System)" is a system developed jointly by Shimizu Corporation and the National Institute of Advanced Industrial Science and Technology. It is a state-of-the-art technology necessary for realizing a hydrogen society in the future. The main feature of this system is that it produces and stores hydrogen, the ultimate clean energy, using surplus power from photovoltaic power generation. It then converts hydrogen back to electricity in case of need, such as the implementation of a Business Continuity Plan. As renewable energy becomes more common, fluctuations in output and surplus energy have become problems, and demands for stable energy supply and storage systems have increased. The hydrogen can be reduced to about one-thousandth the volume if it is stored in hydrogen-absorbing alloys. This makes mass storage possible. This technology is attracting attention as a solution for creating a future decarbonized society.
Description
At present, the formation of a decarbonized society is required worldwide to prevent increased global warming. The "Hydro Q-BiC" uses surplus solar power stored during periods of low power demand, such as weekends and public holidays, and is used during times of high power consumption on weekdays and in emergency situations. Hydrogen is extracted to generate electricity.
Hydrogen, which can be a stable energy source, is basically stored in a tank, so it is suitable for long-term storage without natural discharge. Power generation using hydrogen is considered to be greater than other options and is suitable for long-term operation. For example, the potential of energy management across seasons, such as storing excess power generated in the spring and autumn when solar power generation is large and energy demand at facilities is low, and using it in summer or winter when energy demand peaks, is possible.
This system is planned to be applied to our new Hokuriku Branch office building (scheduled for completion in February 2021). This will be the first building using hydrogen energy in the Hokuriku region, and will use the largest hydrogen storage facility in Japan (capacity: 2000 kWh).
In the future, Shimizu Corporation plans to further develop "Hydro Q-BiC" to promote the formation of a decarbonized society.
Partner(s)
The National Institute of Advanced Industrial Science and Technology
Supplementary information
Other Innovation Challenges

Adoption of next-generation biodiesel fuel
SHIMIZU CORPORATION
CO2 removal air conditioning system
SHIMIZU CORPORATION
Similar Innovation Challenges